The privilege of vintage Wing ownership is an earned one. Previously owned bikes come with years of abuse and jury-rigged repairs by previous owners. Many of us have run into wiring harnesses built from blue crimp connectors, hot wired cooling fans and fuses bypassed with paperclips. It was pointed out that a post was needed to demonstrate the proper techniques of creating a good solid soldered repair.
Soldering is the act of joining to pieces of metal (in our case wires) using a a molten metal filler without melting the base metals. There are a few tools that are necessary (and a few that just make things a little easier) for making electrical solder joints. The first is a heat source.
My preferred tool is the soldering iron or gun. When soldering it is important to is be able to control the amount of heat you use. Soldering irons come in a variety of heat ranges. Small electrical components can be damaged if too much heat is applied so often times a 10-15 watt soldering iron (far left) is used. For larger solder joints the smaller iron won't be able to supply enough heat to draw the solder through the wire. For these larger jobs soldering guns like the 30 watt (center) and 325 watt (right) pictured below are useful. For most motorcycle wiring jobs the medium sized irons are the best choice.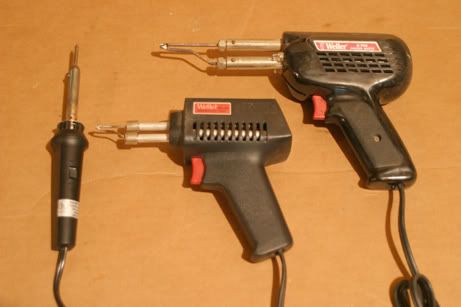 When making electrical repairs, always use a rosin core solder; a 40 tin/ 60 lead solder is quite common and a good choice. I also keep an old damp sponge handy for cleaning the iron.
It is always helpful to have an extra set of hands to hold the piece that you are working on. To make things a little easier, I crimped some small alligator clips to a couple of pieces of 10 awg solid building wire. The wire is then wrapped around a couple of screws and affixed to a scrap of wood. This serves a second purpose as the alligator clips and wire act as a heat sink, drawing excess heat away that could damage small components.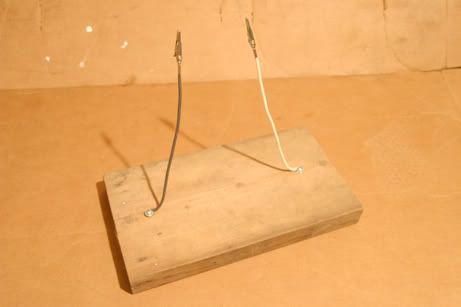 ...and when those crimp-on connectors are necessary a good quality set of crimpers ensures a more reliable and attractive connection. The crimpers pictured below (second from the right) are the best set I have owned and were purchased from my local home improvement store. They produce a crimp that is tight and much closer in quality to a factory crimp.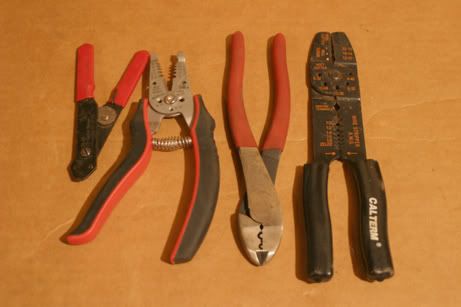 When using crimp on connectors use them only where a connection that can be unplugged is required. Permanent splices should be soldered and properly insulated.
High quality crimp-on connectors produce a mechanical seal preventing the introduction of moisture into a connection. However with the garden variety type connector like are found in most auto parts stores or home improvement centers do not create this same mechanical seal. I have found that in this case, tinning the wire helps produce a seal at the ends of the wire strands and a longer lasting connection as the solder does not oxidize as readily as the bare copper. Tinning the wire means coating it with solder, this helps prevent oxidation at the crimp and the solder coated wires will not be as likely to break or come out of the crimped connection.
Begin by stripping a small amount of insulation from the end of the wire, enough to be securely crimped in the connector without excess bare wire exposed beyond the connector's insulation. If the wire looks dull or oxidized, carefully clean it with sand paper or emery cloth.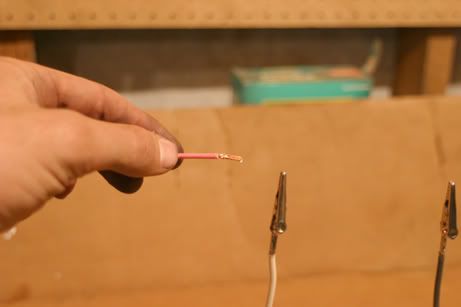 Neatly twist the end of the wire keeping any stray bits from sticking out.
Heat the gun and apply a small amount of solder to the tip.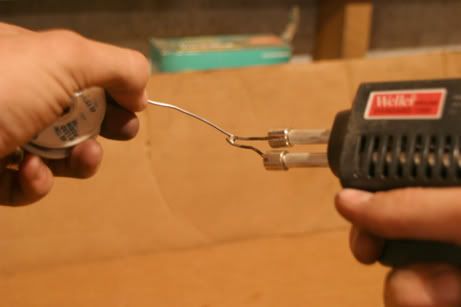 Next, touch the solder to the tip of the soldering gun and drip a small amount of solder onto the wire.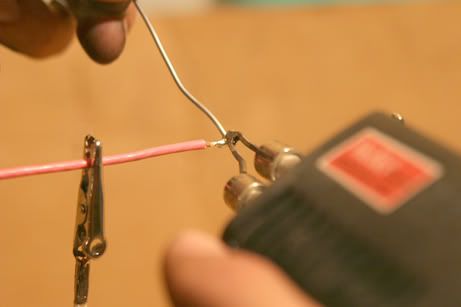 Remember to keep the gun clean while working. Contaminants will prevent the gun from heating the solder properly and can be introduced into your work producing a poor solder joint.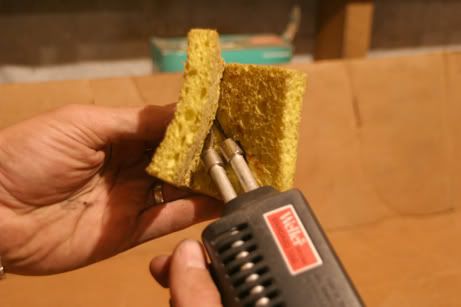 Now use the tip of the gun to spread the solder over the exposed wire. If your gun is sized optimally, you should be able to draw the solder through stranded wire. Perform this step carefully applying only the heat necessary as too much can melt insulation and cause other damage.
The crimpers I use have a small lobe which can be aligned with the seam in your connector to depress the metal inwards.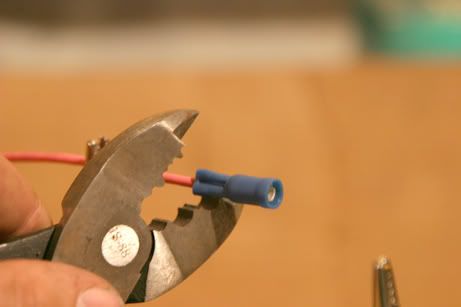 The open portion of the crimpers (the section without the lobe) can then be used to compress the crimp to create a solid connection.
The process for creating a splice is much the same. I first place a piece of heat shrink tubing, long enough to cover the whole solder joint, over one wire and slide it far enough down that the heat from soldering will not cause it to begin shrinking. Heat shrink tubing can be shrunk with anything from a Bic lighter to a torch as long as you are careful to keep the flame far enough away. When I have it handy, I like to use my heat gun, because it less likely to burn the heat shrink tubing.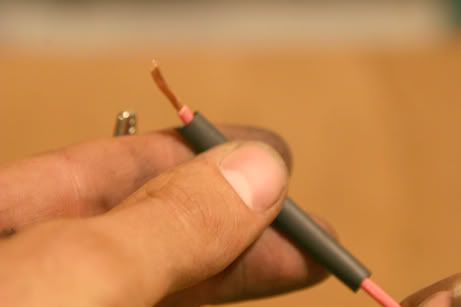 I then pre-twist the wires together before applying solder in the same method.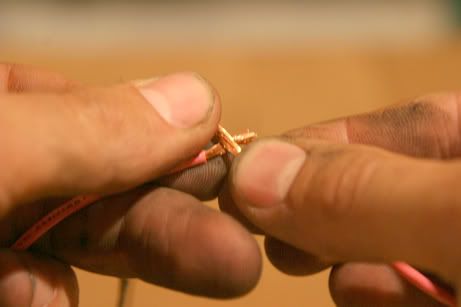 A good solder joint should be clean and shiny silver in appearance.
An excellent alternative method for producing a splice when additional wire makes it possible can be found here:
http://www.aeroelectric.com/articles/PM ... leeve.html
Some other useful links when working on your Wing's wiring are:
How to use a multimeter
Thanks to mooseheadm5 for locating this one.
Ron Francis Wiring
A great source for automotive type connectors.
Vintage Connections Professional Electrical Connector Kits
If you have any other useful electrical links, please PM me and I will add them to this list.