You need to grease your drive splines each time you change your rear tire. This is true for all shaft drive bikes, regardless of brand. The drive splines get surprisingly hot. Additionally, there's a lot of pressure on the splines and a lot of back and forth sliding motion. Any liquid type of grease will quickly be squeezed out of the splines, and leave you with no protection.
The
ONLY
grease that should be used on the spline is genuine
Moly 60 paste
(60% molybdenum disulfide). A lot of greases now say "Moly" on the container, but dont come close to the Moly 60 paste. Moly 60 is a dry lubricant which bonds to the metal surfaces, offering lubrication properties even when the parts have squeezed everything liquid out. Part number for Honda Moly 60 Paste in a 3 oz. tube is 08734-0001
UPDATE: Reports from the Valkyrie Riders website VRCC are saying that MOLY 60 is not holding up and you'll get rust over time. I recommend using GuardDog 525. It is 30% moly and has been tested and designed for motorcycle use
UPDATE #2: Honda Moly 60 Paste has been discontinued and GuardDog is no longer in business. Honda Moly 60 has been replaced by Honda HN 08798-9010 MOLY PASTE (M77). Some current Moly paste choices are Honda M77, Loc-Tite 51048, TS-70 moly paste and Jet-Lube. There are differences in Molybdunum disulfide percentage and temperature rating among these... so I suppose the one with highest Moly content and highest temperature range would be the winner?
The Loc-Tite product gets good reviews.
https://www.amazon.com/gp/product/B001H ... merReviews
Check out the following links:
HONDA M-77
https://www.amazon.com/Honda-HN-08798-9 ... B0083BWUYW
LOCTITE
https://www.acklandsgrainger.com/en/pro ... p/LCT51048
TS-70
https://www.tsmoly.com/anti-seize-lubri ... -p-89.html
JETLUBE
http://www.jetlube.com/pages/EP_Bearing_Grease.html
http://www.guarddogmoly.com/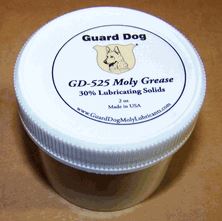 With your rear wheel off the bike, the drive splines will be exposed.
The drive side spline has a splined gear that extends outward, and rotates as the driveshaft rotates.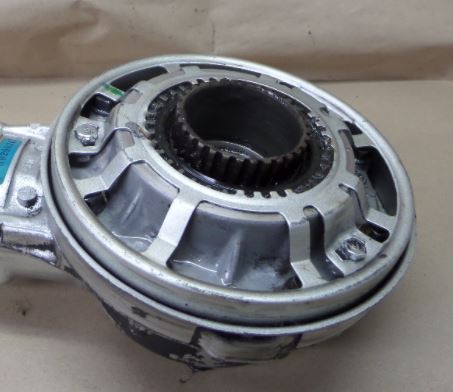 The wheel side spline has a splined gear that accepts the drive side spline. Before you remove the wheel side spline from the wheel, and it might take some persuading, scribe (or use a magic marker) it's orientation so it goes back in the same holes.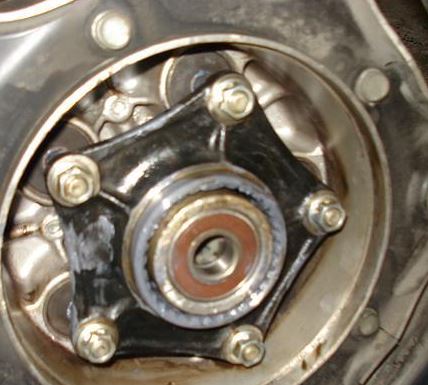 Clean off any existing grease with whatever means available (Rags, Q-Tips, Paper towels, etc). You'll likely need some solvent like Kerosene or Brake Parts Cleaner to get them clean (I used lacquer thinner). You want the surfaces to be CLEAN & DRY prior to applying the paste.
When all the splines and sliding pins are clean and dry then apply the Moly-60 paste. The idea here is to more or less paint the splines - you're not looking for a large volume of grease, like you would use on a wheel bearing. It's helpful to use a clean solder flux brush or old tooth brush to spread the grease or just use your fingers to smear it on. It's going to be a messy task so wearing some latex gloves is a good idea.
Inspect the o-ring for wear and replace if necessary. Coat the wheel hub and o-ring with some Moly 60.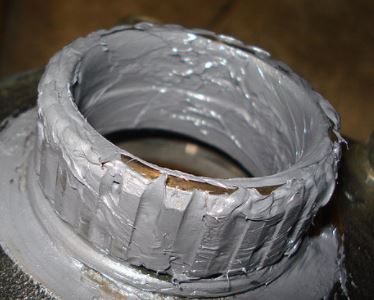 Coat the sliding pins on the wheel side spline as well.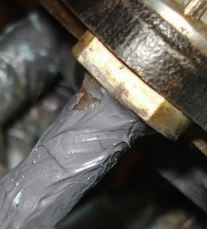 Before assembling the wheel side spline, clean out the sliding pin bores of the wheel. A 20 ga. gun cleaning brush in a drill works good for this.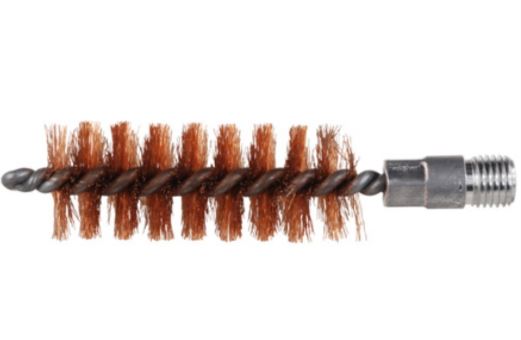 That's it. Now assemble the wheel and drive unit to the bike. While you're at it now would be a good time to change the gear drive oil too.